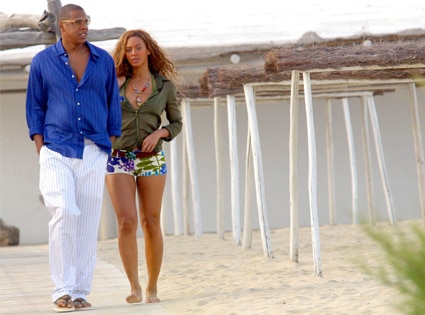 What happens when you marry an $82 million hip-hop brand and an $80 million R&B empire? You get Hollywood's best-paid power couple.
Thanks to a monster year filled with music, movies, fashion and endorsement deals, Jay-Z and his new bride, Beyoncé Knowles, collectively raked in $162 million between June 1, 2007 and June 1, 2008. The jaw-dropping sum garners them bragging rights atop our first annual ranking of Hollywood's Top-Earning Couples.

"Naturally, powerful people tend to gravitate toward other powerful people," explains clinical psychologist and celebrity researcher Jim Houran, for reasons that range from proximity (stars hang around other stars) to familiarity (people are attracted, at least initially, to others like them) to clearer expectations (shared priorities make it easier for celebrities to relate). No matter how they get together, the results are good for the bottom line.



Take Will and Jada Pinkett Smith. They hauled in some $85 million over the past year, making them No. 2 on our list. Though Jada's resume continues to grow, Will's the family breadwinner. He raked in $80 million in the year ending June 2008, thanks to another set of top-performing blockbusters: I Am Legend, The Pursuit of Happyness and this past summer's Hancock. Together the flicks banked $1.2 billion at the worldwide box office, making him Hollywood's most bankable star. Jada pulled in $5 million during the same 12-month period, thanks to roles as an actress (The Women), producer (The Human Contract) and businesswoman (a stake in beauty line Carol's Daughter).



Third: David and Victoria Beckham. Conquering fans on both sides of the Atlantic, the power couple brought in $58 million over the year-long period.
Becks' share was $50 million, proving the much-covered move to America has paid off for the British soccer star. Though his Los Angeles Galaxy salary was $5.5 million, the sum more than doubled when his cut of the team's ticket, merchandise and sponsorship revenues were factored in. He also pulled down a cool $35 million from lucrative endorsement His wife, better known by her pop-star moniker, Posh, generated another $8 million, thanks to her cut of a $23 million Spice Girls reunion tour and a slew of product lines, including sunglasses, perfume, couture clothing and her DVB jeans line.



ARTICLE COURTESTY OF WWW.FORBES.COMHI